CASALE massively reduces its mobile costs with the advice & tools from TMANCO
ABOUT CASALE – Founded in 1921 with HQ in Lugano, CASALE is an engineering company, global provider of integrated solutions for the production of fertilizers and chemicals.
HIGH MOBILE COSTS – Considering that many of the ~400 employees often travel to work on projects in a variety of countries worldwide, this generates high mobile costs due to roaming.
When not active on a given project, a person may not travel for several months. His mobile subscription in this case is oversized because it includes unnecessary roaming, thus generating unnecessary costs.
PANDEMIC – When the pandemic arrived, mobile costs dropped by ~40% as a consequence of travel restrictions.
Costs could be further reduced by adjusting the subscriptions, but it wasn't as simple as downgrading everyone's subscription: many employees still needed international calling or data roaming for home-office abroad.
OPTIMIZATION – CASALE relied on TMANCO to analyse the costs and understand how to better adjust each subscription. TMANCO used the solution TSPENDO to identify the optimum for each user based on his type of usage.
After CASALE applied the recommendations provided by TSPENDO, the costs dropped by another ~30%, down to ~30% of what they used to be before the pandemic.
GOVERNANCE – TMANCO then implemented a monthly control mechanism to keep the costs optimized.
As people start/stop traveling based on project requirements or pandemic restrictions, TSPENDO detects the change in usage pattern and suggests the most adequate subscription to minimize the costs.
Compared to the pre-pandemic situation, costs are much lower and less volatile since the anomalies are immediately detected and corrected.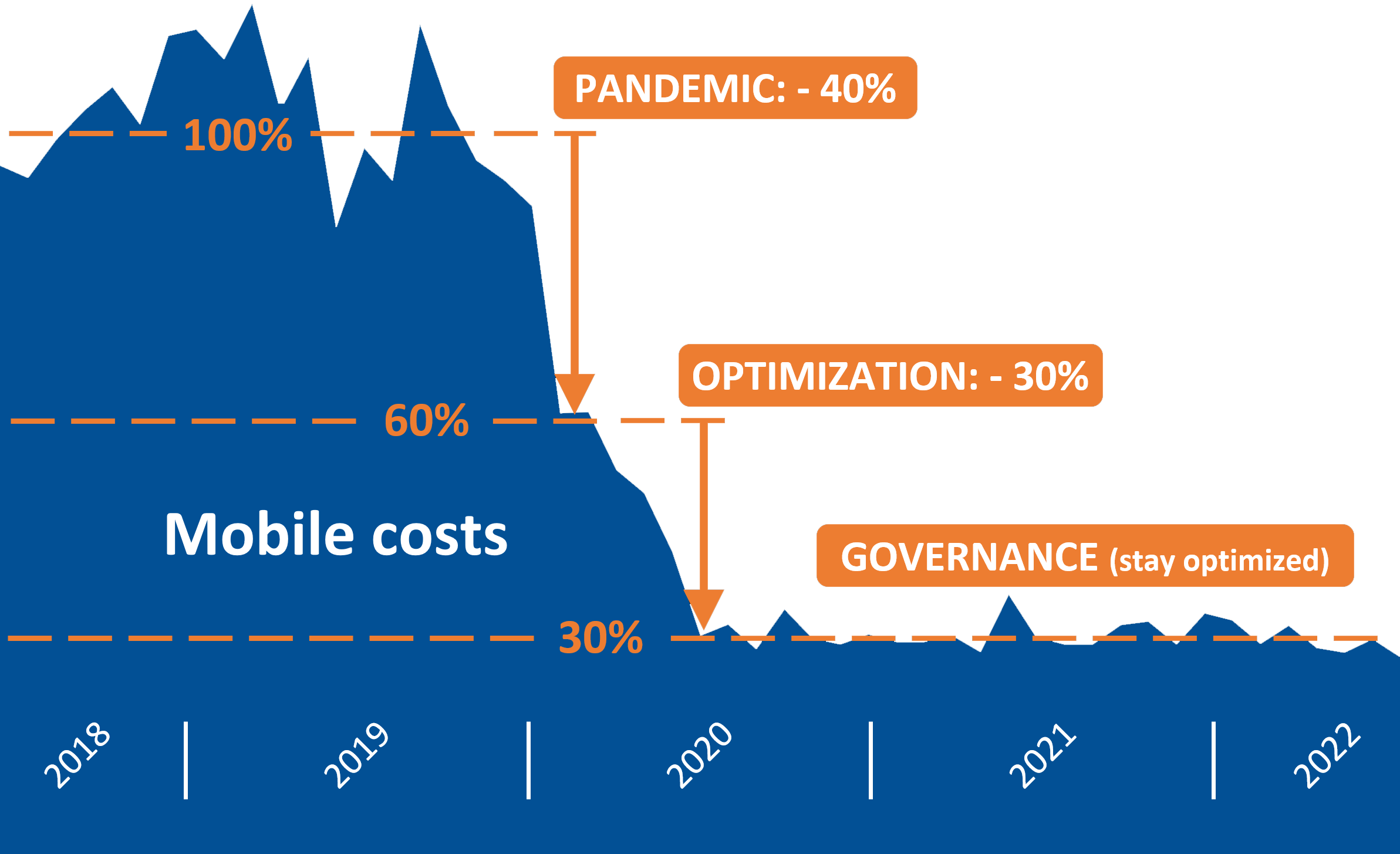 "We have always wanted to optimize our costs. The pandemic was the trigger. The result is impressive, we should have done it long ago"
Riccardo Donati
Head of IT
REPORTING – CASALE also wanted to provide the users with more visibility to raise their cost awareness so they can contribute to cost optimization.
CASALE now uses TELBI, a product from TMANCO, to manage the mobile fleet, analyse the costs and distribute reports automatically.
Every month, each mobile user receives a report by email showing his/her costs with details by regions (National, International, Countries) and by usage (Minutes, MB).
"I used to manage Excel files with details for users and costs, it was a headache to get some visibility. Our costs are much lower now, we have more visibility and better control, and reporting only takes me a few hours per month.
Users appreciate the monthly report, they read it and sometimes contact me with questions. I feel they are more cost-conscious; they were very receptive to a video-training I created to explain how to use data packages abroad to save money.
Bottom line: costs are lower with less effort and users are satisfied."
Renata Arcari Casagrande
Mobile fleet manager
Success story published by TMANCO SA with authorization from CASALE – Oct. 2022