THE SWISS ONLINE PORTAL TO MANAGE YOUR MOBILE INVOICES

A product from:

Powered by:

Telbi (Telecom Bill Intelligence) is an online portal, hosted in Switzerland, where you can upload your mobile invoices to perform activities such as:
Simplify the accounting process by automating cost-allocation (distribute costs by division / cost-center / etc.)
Generate visibility by sending automated reports to managers and/or employees
Reduce costs by understanding the usage pattern, optimizing the subscriptions or correcting anomalies
DIFFERENCE BETWEEN TELBI AND ATEM
Two TEM solutions (Telecom Expense Management) for different needs & budgets
MobilReport is an austrian company who developped and operates the online portal named mobilreport hosted in Austria.
Tmanco has a partnership with MobilReport and uses the product mobilreport to power the portal Telbi.
Telbi is an online portal hosted in Switzerland. It is supported by MobilReport who customized it for the swiss market.
Target: medium & large national companies starting from 100 mobile lines
Features: limited TEM solution, no inventory management (for now, but possibility to upload your inventory), covers carriers in Switzerland, Austria, Germany
Cost: starting from CHF 300.-/month, no duration commitment
Hosting: datacenter in Switzerland
Target: large & multinational companies with telecom spend over 1 mioCHF/year and over 1'000 mobile lines
Features: full TEM solution, inventory management, workflow, covers 150+ carriers worldwide
Cost: starting from CHF 30'000.-/year with minimum 3 years contract commitment
Hosting: datacenter in France
Simple & Intuitive interface
The easy-to-use interface enables companies to deploy the solution without extensive training. The concept of the application offers great flexibility to perform complex analysis or even export data to Excel if you want to do more.
Note: the interface is currently in German. An English version will be available soon, followed by a French version depending on the demand.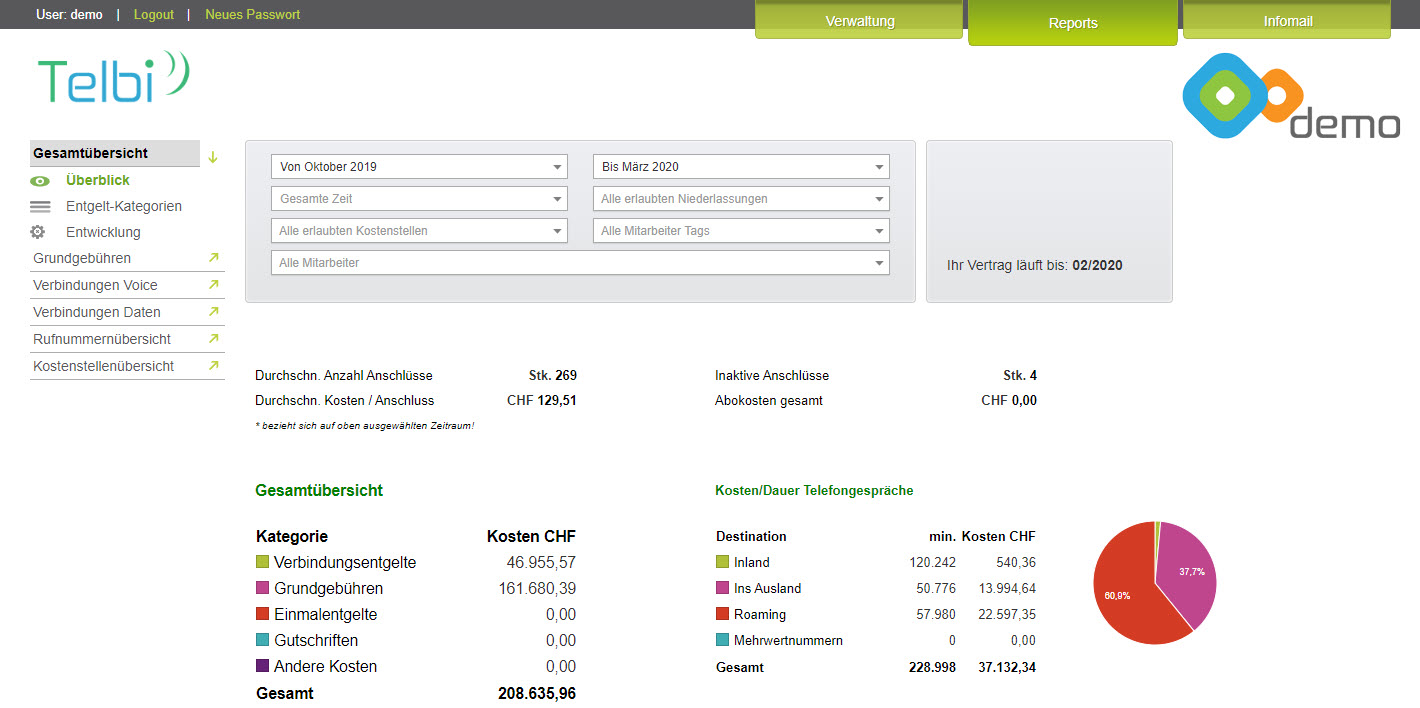 Ready for Swisscom NATEL go subscriptions
For each mobile number, you see how much traffic (Voice & Data) was generated in each zone (Swiss / Neighbours / Europe / Global / GlobalPlus) and how much that traffic was charged in case it wasn't included in the subscription.
With such information, it becomes easy to identify mobiles where the subscription should be upgraded or downgraded.
In this screenshot, we see the highlighted mobile has a "Global" subscription but generated almost no traffic in the regions Neighbours, Europe and Global over the 4 months displayed. We can safely downgrade to "Swiss" and save around 150.- CHF/month (depends on your contract). If the mobile still generates some traffic in Neighbours, Europe or Global, that traffic will be charged but it will still be more convenient than paying each month for a "Global" subscription.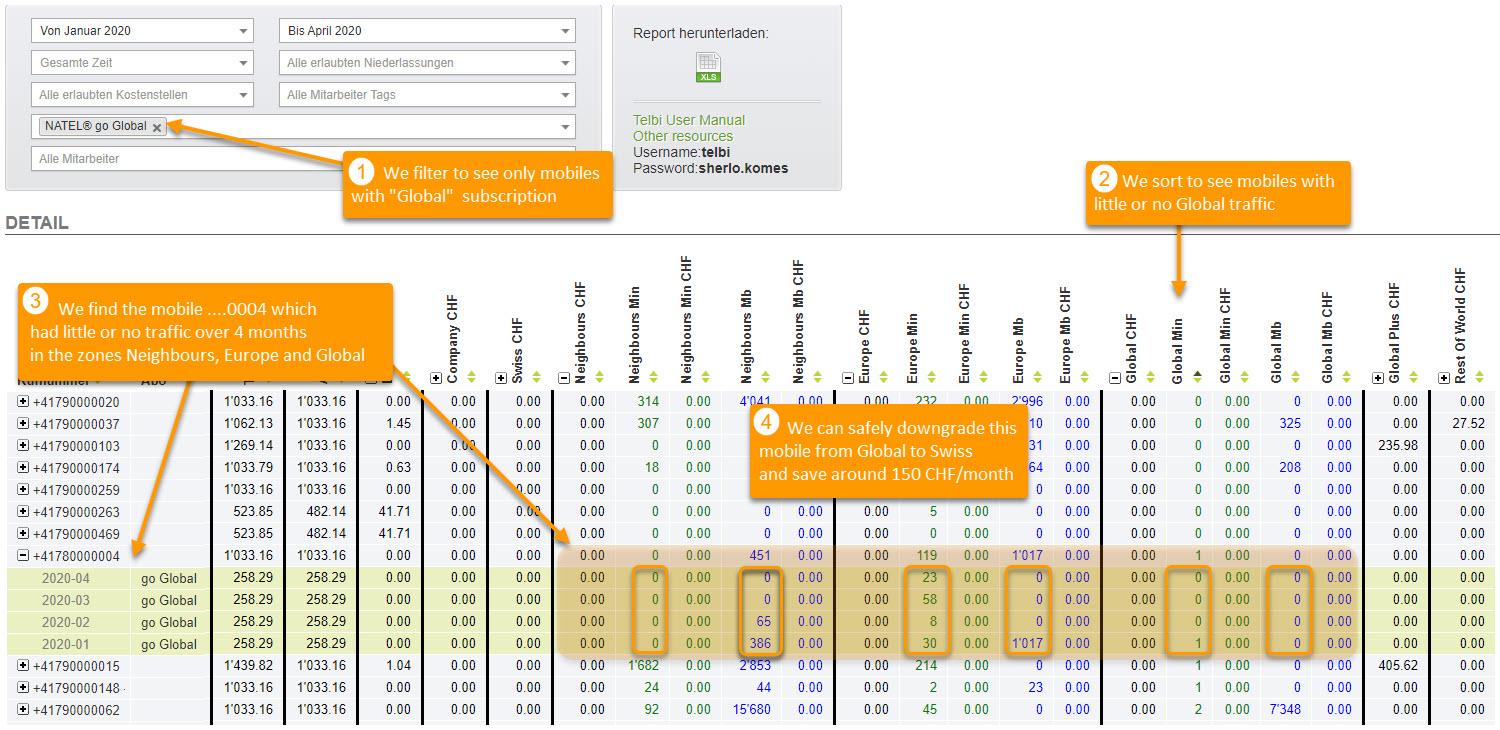 HOW TELBI CONTRIBUTES TO YOUR GOALS
TELBI includes a variety of features to simplify and automate some common tasks associated with the management of a mobile fleet. We estimate that using a TEM can reduce the overall workload up to 30%.
Sourcing: 

TELBI provides all the necessary data to know your traffic and profiles so you can negotiate exactly what you need, and you can simulate the outcome precisely. After implementing the new contract, you can verify the expected savings.
Helpdesk: TELBI acts as a central repository and can also provide a self-care portal for endusers.
Accounting: TELBI imports automatically all electronic invoices and associates the costs to each user/cost-center. Performing cost-allocation can be as simple as importing a generated file into your accounting system.
Reporting: this is a key feature, with one click you generate and send custom reports to each user/manager. With such visibility, you can delegate many verifications and reduce the need for central controlling.

Optimization:

 you benefit from the high visibility, it becomes then easy to detect and correct anomalies.
In addition to the software platform, we provide also a variety of managed services. We can take care of some/all of the above activities so you can focus on your core business.