Swisscom and Sunrise both offer a family of mobile subscriptions with a "flat" model for enterprises ( Swisscom NATEL go , Sunrise Business ). These flat subscriptions are very attractive: all included, no surprise, easy to budget with almost fix cost every month. But choosing the right subscription for each user is not easy, and choosing the wrong subscription means higher costs. This is why we developped our software Tspendo (Telecom Spend Optimizer), an automated tool to simulate the various subscriptions and identify the best one for every user.
 For a customer with 250 NATEL go subscriptions, Tspendo found 60'000 CHF/year savings by adjusting the subscriptions for 113 users, and the top 28 users represent 30'000 CHF/year savings, this is more than 1'000 CHF/year per user.
The many rules of the NATEL go subscriptions model make the optimization task very complex, without a tool like Tspendo it would be almost impossible to identify these savings and which mobiles should be upgraded/downgraded.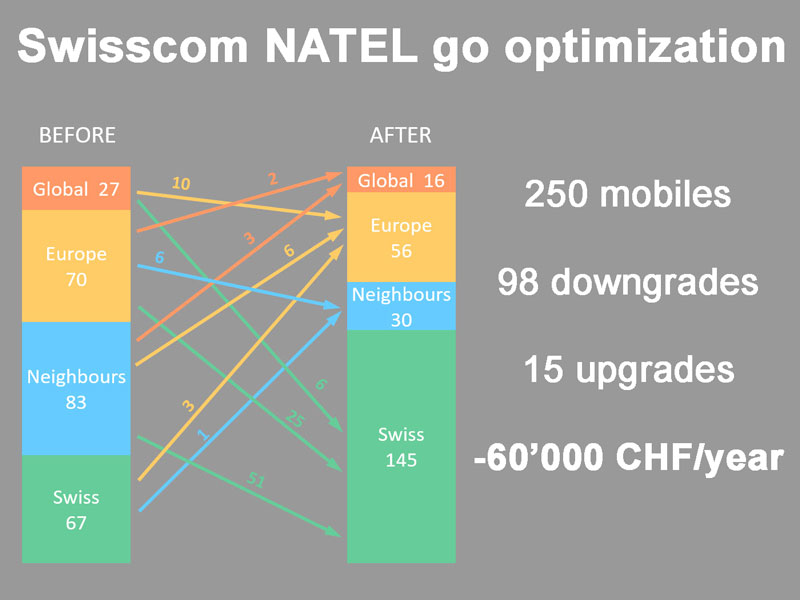 Tspendo reads your billing files (Swisscom Invoice Reporting), simulates all possible upgrades/downgrades to find out the best subscription for each user, then produces a comprehensive report with all the details you need to take action.
Read our article to see a sample report, you will be surprised by the amount of information we can get out from your invoice once the data is processed and presented in a meaningful manner.