Differences and benefits for fix telephony
Call Accounting
Call accounting consists of hardware connected to the telephony infrastructure (PBX) to receive the call tickets (CDR) generated each time a call is made. A software then extrapolates the cost for each call by analyzing the dialed number and applying a tariff according to a rate-table you provide & maintain.
Telecom Expense Management
TEM consists of a software that receives and interprets the electronic billing-files provided by each operator. These files contain all the costs billed by the operator, and the costs match exactly the actual invoices. No hardware is required and the software is provided as a service. It can encompass all costs, operators, services and locations.
 By nature, a call accounting system only knows about calls made from extensions that are connected to the PBX. The costs are the best guesses that can be made with the information we provide.
By nature, TEM only knows about services billed by the operator (or billed at zero cost) and usually only after the month-end, when the bill is available. This doesn't include internal or incoming calls because such traffic is not billed.
The objective is primarily to re-allocate the costs of voice-calls made through your fix telephony infrastructure.
The objective is to simplify all management tasks (including cost allocation) and reduce your direct & indirect costs for all telecom services, no matter which provider, location or technology
TEM better suited for today's telecom complexity & needs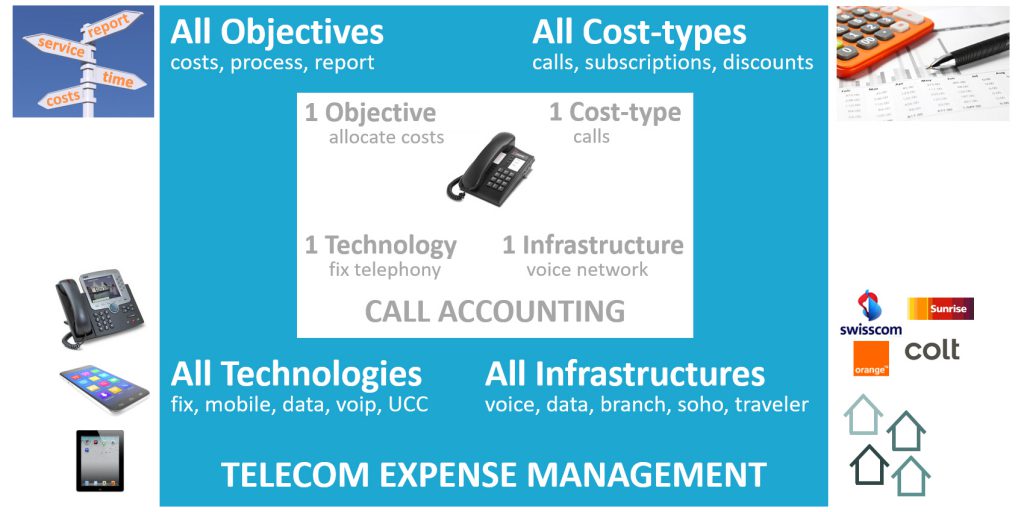 For most situations, TEM offers far more benefits than CALL ACCOUNTING:
All calls and locations. A call accounting is very PBX specific. It covers only the infrastructure to which it is connected and only the calls which are routed through that infrastructure. Small locations or direct lines or other systems are not covered. TEM covers all equipments and calls because it is based on the costs invoiced, independently of the device which generates the call.
All services, not only fix telephony. Mobile costs are today the biggest challenge and the costs are increasing. Data lines are another area. TEM consolidates all costs under one umbrella, it provides a global overview and simplifies the allocation of all costs without needing to pull information from various systems.
All costs, not only calls. A call accounting shows only the calls, it is sometimes possible to indicate other costs but this is done manually by indicating fix costs. A TEM shows all actual costs, including the line rental, discounts, special services, etc.
Precise & actual costs. A call accounting extrapolates the cost based on call duration and the tariffs you indicate. Maintaining rate tables is time consuming and inaccuracies can't be avoided. TEM is based on the actual invoice, the costs allocated are exactly the same as those paid by accounting.
No installation, scalable. A call accounting usually requires a hardware + software to buy and maintain. AnatoleTEM is provided as SaaS (Software as a Service), accessible from anywhere (web-based). Thanks to its cost-model of yearly subscription based on the nb. of lines and functions, it is easily scalable and you only pay what you really need.
Save time: a call accounting system is usually limited to cost allocation. TEM goes further, it simplifies all activities and saves time & money with functions such as: workflow, inventory management, automated reporting,…
There are situations where call accounting can't be avoided: if you really need to monitor internal or incoming traffic, or when real-time analysis is required, such as in hospitality sectors. In these cases, it can still be a good idea to use a Call Accounting as a collecting unit to feed a TEM solution, this way you get the benefit of both systems.